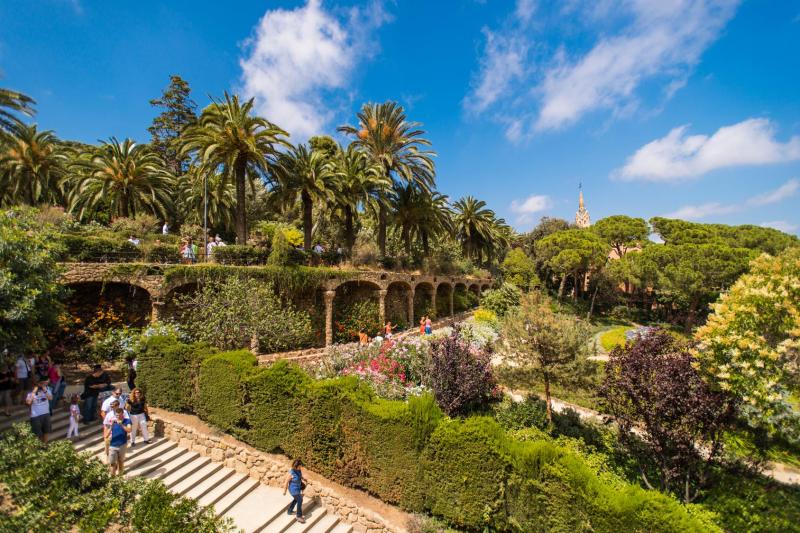 Guided tour to Sagrada Familia w. Towers & Park Güell
Este es un producto nuevo! Ya es posible reservar entradas, y la información estará disponible en Español dentro de poco.
This tour has it all for you who are visiting Barcelona! Start with a tour of the marvelous Park Güell, then get a guided tour of Sagrada Familia and end with a tour of in the towers to enjoy the incredible view.

Highlights:
- Experience the best of Barcelona
- Visit both Sagrada Familia and Park Güell
- Explore the incredible architectural marvel Park Güell
- Get transfered to Sagrada Familia
- Enjoy a guided tour of Sagrada Familia
- Visit the Sagrada Familia Museum
- Get access to the towers
- Take in the amazing view over Barcelona

Sagrada Familia with Towers & Park Güell
Visit two of Gaudi's masterpieces in Barcelona. Meet your tour guide outside Park Güell and get ready to explore the architectural marvel.

This incredible and colorful park was commissioned by Count Güell, who wanted Antoni Gaudi to design an elegant estate with family homes. Today, it's a public park and a part of the city's heritage. It has been declared UNESCO's World heritage site. You won't definitely find any park like this one in the world!

Hop on the tour bus and go to the next part of your tour: Sagrada Familia.

Discover this magnificent modernist building on your guided tour inside the church. Sagrada Família has a Latin cross plan with five aisles, richly and symbolically decorated, where vaults reach up to seventy meters.

Next, you'll visit the Sagrada Familia Museum, where you'll see drawings, plaster models and pictures about the history and development of this basilica from its early beginnings to the present day. The museum will also give valuable information about Antoni Gaudí's life and works.

At the end of the museum visit, your guide will show you to the elevator to the tower where you have admission included. Get the elevator to the tower to admire the astonishing views of the city from there.

How do I get my tickets?
Shortly after your booking is complete your e-ticket will be sent directly to your email, just print it out and bring it on your tour.
Where does the tour begin?
The address will be clearly stated on your e-ticket.

Where does the tour end?
The ends at Sagrada Familia.
How long does the tour last?
The tour lasts approx. 4½ hours.

What languages is the tour available in?
The tour is operated in English only.

Is there a dress code?
Yes, entrance into Sagrada Familia requires a strict dress code. No tank tops, strapless shirts, short shorts or sandals will be accepted. Julia Travel Gray Line and Ticmate cannot be held responsible for refused entry due to improper dress.
Are there children's tickets?
Yes, children's tickets are available for children between age 6-10. Children under age 5 are free when accompanied by a paying adult.

Children under 6 and unaccompanied minors (under 18 years old) are not allowed to go up the towers.

Important information:
- Due to limited capacity of the elevators, there may be a waiting time between the basilica and museum guided tour and elevator access.
- Children under age 6, children under age 17 without an adult and people with reduced mobility are not allowed to go up the towers.
- Please note: If the elevators don't run, you will need to take the stairs down.
Horario
The tour departs daily at 11 AM.
Reserva ya
Fantástico:
5.0
– 1

reviews
Se imprime billete en casa
Ahorra tiempo – salta las filas
Duración: 4 horas 30 acta
Indicaciones
Guided tour to Sagrada Familia w. Towers & Park Güell
Atención al Cliente en Español

93 181 67 02
Necesitas ayuda? Contestaremos tus preguntas con mucho gusto.